Vision
Track&Know will research, develop and exploit a new software framework that aims at increasing the efficiency of Big Data applications in transport, mobility, motor insurance, and health sectors.
Stemming from industrial cases, the project will develop user friendly toolboxes that will be readily applicable in the addressed markets.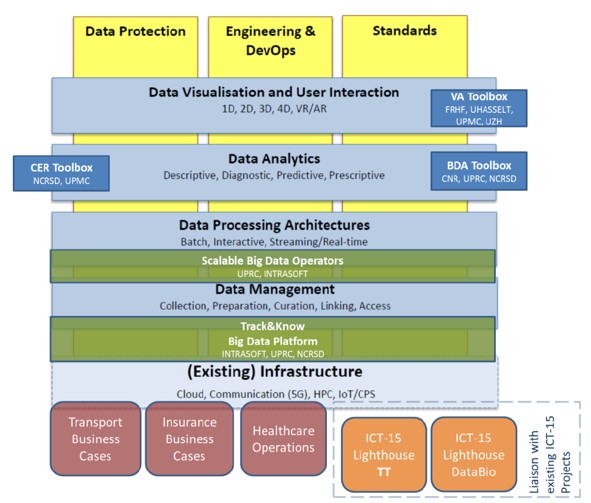 Background
Dashboards should allow a user to instantly extract the most crucial information. They are an increasingly popular form of data visualization and the overall aim for dashboard design is to improve information communication and decision making. The problematic issue with mobility data in a dashboard design scenario is that the volume of data and their tendency to overwhelm visual displays requires special consideration when developing at-a-glance views that highlight relevant mobility results.
Challenge & Goal
Large, complex and dynamic mobility data present challenges in dashboard design and it is not clear how to move from those raw data inputs to a simplified display.
The goal is to develop a framework for mobility data dashboard design to guide developer-side decisions.
Three Pilots
1. Auto-insurance and innovative mobility services
Motor insurance and crash prediction
Electric cars
Car pooling
2. Healthcare Services
Healthcare service optimization
OSA (Obstructive Sleep Apnoea) driving behavior modelling
3. Fleet Management
Fleet maintenance: cost reduction, response time improvement, anomaly detection
Driver behavior analysis