cardossier
Researchers Involved
Liudmila Zavolokina
Ingrid Bauer
Andreas Engelmann
research areas
Society, Environment and History
Vision
Managing the life cycle of a car with blockchain technology.
All relevant information along the life cycle of a car
Transparent, trustworthy and verified car history reports
Secure and reliable data exchange and ownership
Digitalization of the car-related ecosystem
Project Goals
Increase trust, transparency and the efficiency of transactions by using blockchain technology
Insights into the business, organizational, technical, and regulatory implications and opportunities of introducing a blockchain into this type of ecosystem.
Background
The project develops a blockchain-based digital dossier where all data from a vehicle's life cycle can be stored transparently and securely.
The information can be accessed and used by different stakeholders, such as car manufacturers, parts suppliers, insurance companies, importers, garages, used-car dealers and portals, vehicle evaluators, road traffic administrators, fleet managers, private buyers, sellers and renters, car rental companies and car recyclers.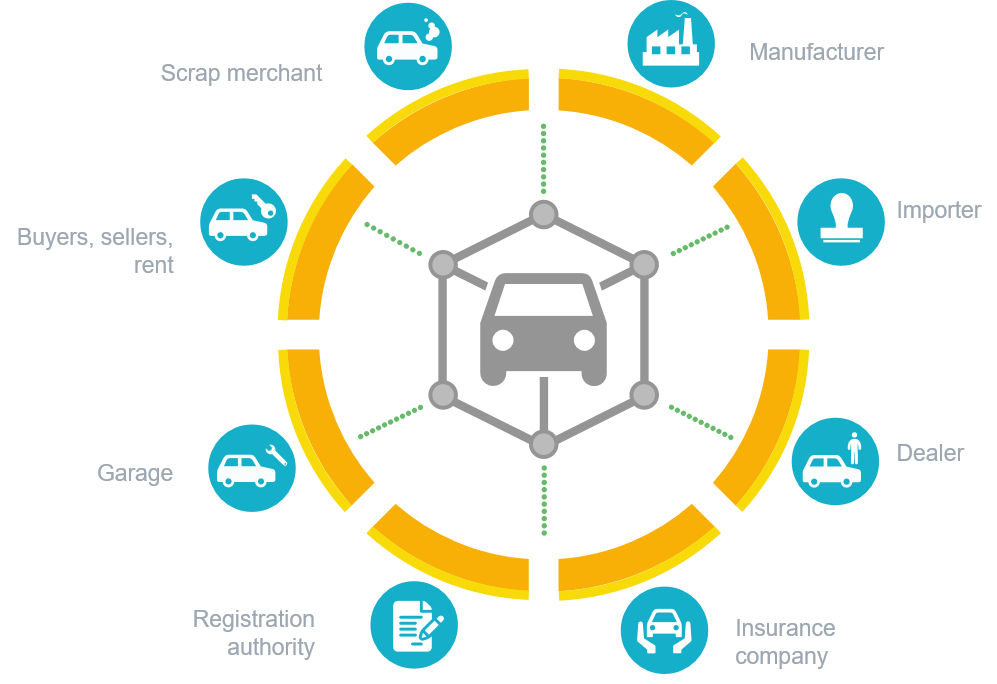 Blockchain Technology
The cardossier is implemented on the basis of a blockchain with a community approach in combination with smart contracts. This technology was chosen because it is able to establish the necessary trust among the different stakeholders through transparency, immutability and decentralized operation. The processing and administration of all information in the dossier is carried out in compliance with data protection regulations and other regulatory requirements.